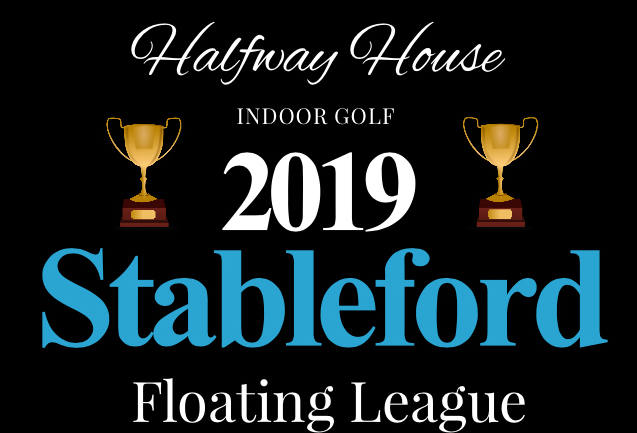 Stableford Floating League
Floating league – Book your own simulator time to play each round
2-Man Teams. 9 Holes. Stableford Stroke Best Ball Format
12 Round Schedule. Play in as many rounds as you want ( minimum of 7 rounds of 12 must be played to be eligible for playoffs, see below.)
Entry fee: $100/team. Simulator rental fee is separate- pay when you play.
We Encourage you to reserve Tuesday nights for camaraderie, side bets!! If you can not make Tuesday, book when it is convenient for you (feel free to take advantage of discounted weekly deals like Monday 50% off deal, etc).
Weekly Pools
$20 Optional pool each week based on Stableford points
Pool money awarded to winners at the end of each round period
PLAYOFFS – THE HALFWAY HOUSE CUP!
Handicapped and seeded match play.
Must play at least 7 rounds to be eligible for playoffs. If you do not get in 7 rounds you will be forfeiting your $100 entry fee. 100% of fees collected go towards playoff awards.
Dates and Times of playoff matches are TBD
Winning team is awarded cash and will be the FIRST to have their names engraved on the giant, "Halfway House Cup" trophy, which will be displayed at Halfway House for years to come.
STABLEFORD BEST BALL SCORING
2-Man Teams, each player plays his own ball with the better score used to compete against the other teams in that round.
Eagle 5 points
Birdie 2 points
Par 0 points
Bogey -1 Points
Double Bogey -2 points