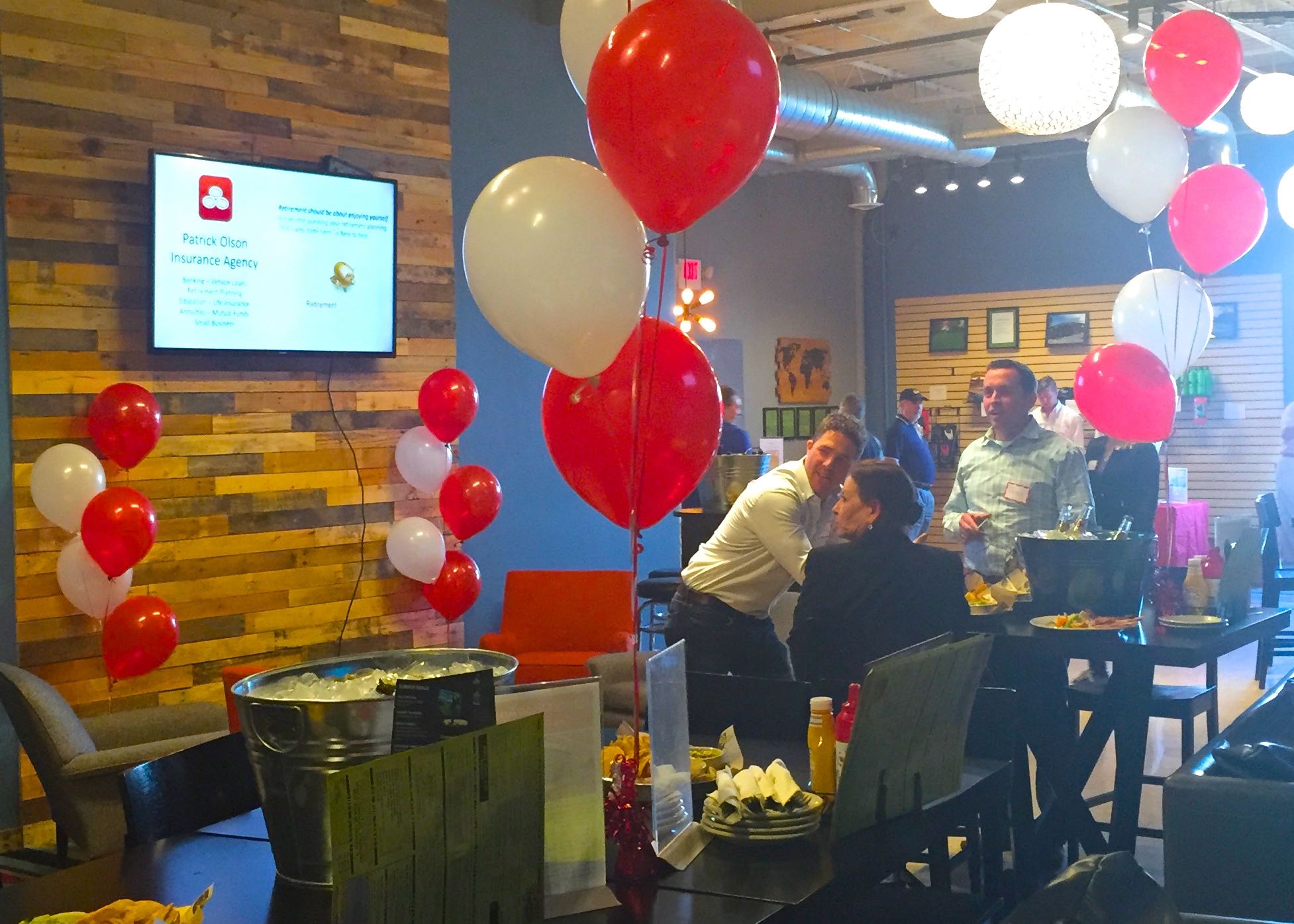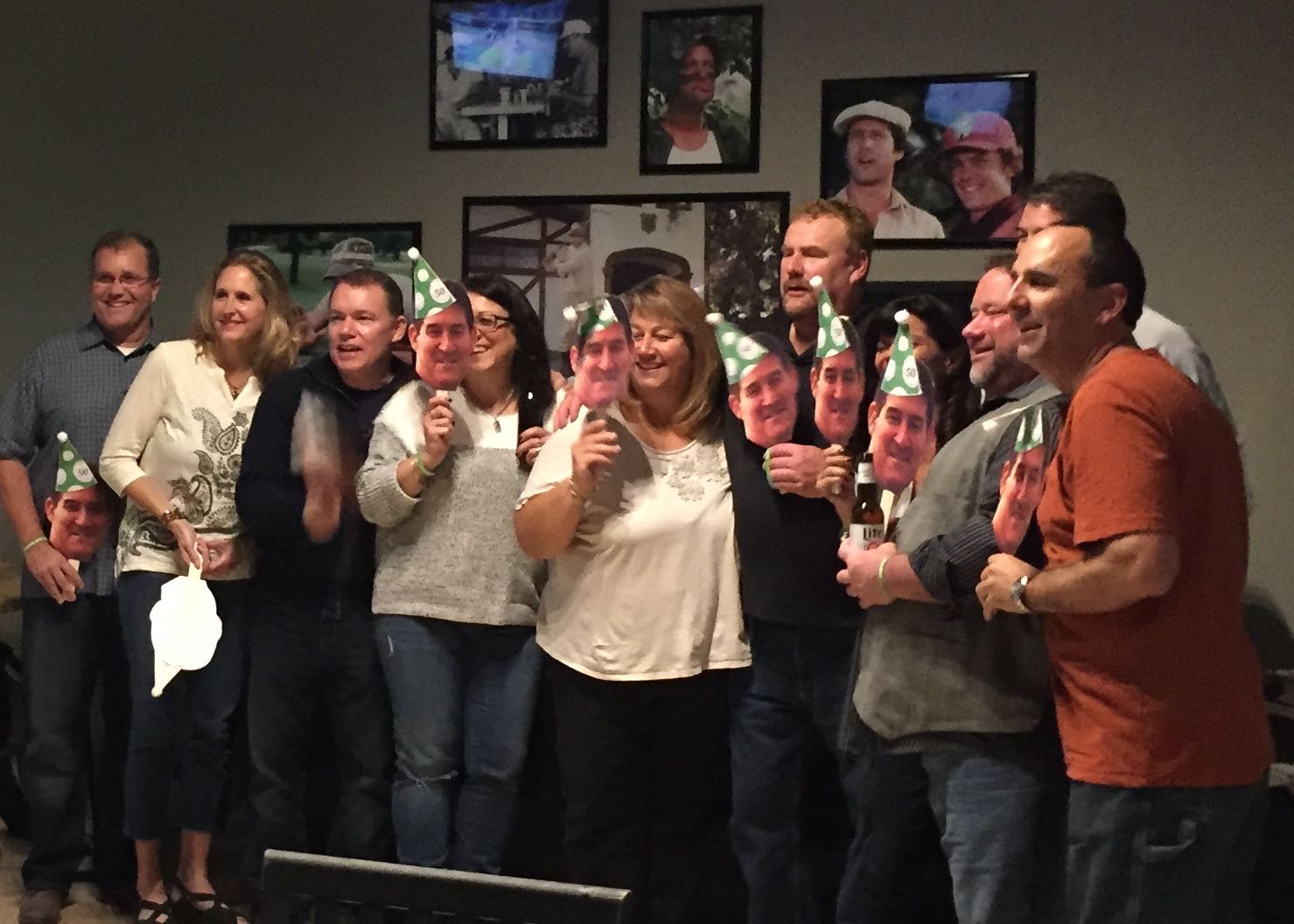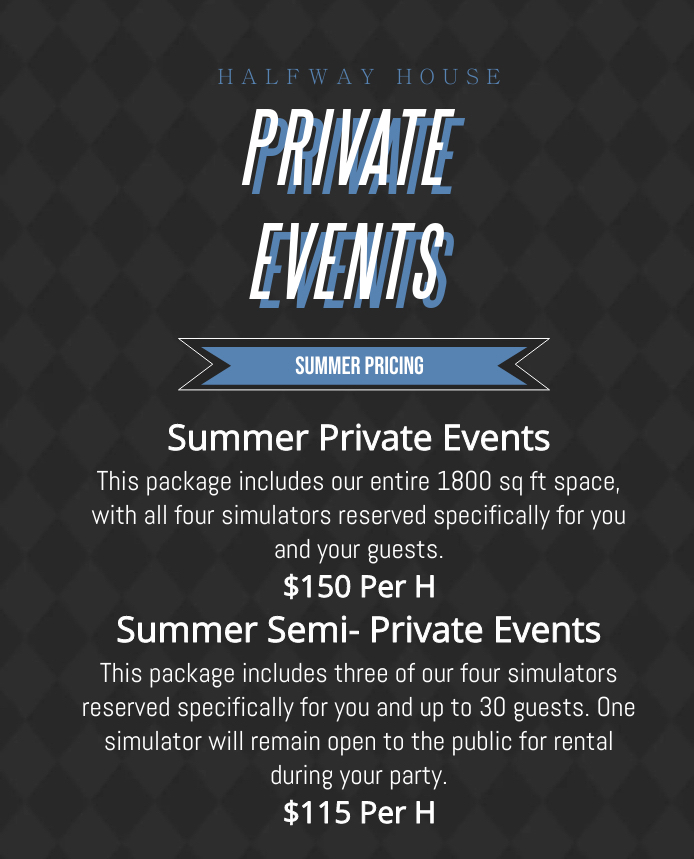 Summer Private Events are available outside of normal business hours. Please email Deanna@halfwayhousegolf.com to inquire.
4-Bay Private Event – up to 60 guests
3-Bay Event – Up to 30 guests
The maximum numbers above reflect the number of guests who can fit comfortably in the area behind the bay.  Each simulator system holds a max of 8 players at one time (we recommend 4 players for 18-hole rounds).
KIDS PARTIES – All children 15 years and under must be accompanied and monitored by adults. One person in bays at ALL TIMES to avoid any injuries. LIMIT 6 KIDS PER BAY MAX!
FLEXIBILITY: Our simulators can be customized to reflect the needs of your guests.  Driving ranges, contests (ie. closest to the pin), scrambles, match plays, best balls, etc. are all possible settings.  Offering a different scenario in each bay allows your guests to find just the right skill level for them, maximizing their enjoyment.   Bays 3 and 4 can also transform into regular cable tv for big sports events.
FOOD AND BEVERAGE: Halfway House allows any outside catering during semi-private and private events. However, all drink purchases must be made through HB JONES. HB Jones and Gambino's Deli Food menus are available for all events and reservations.
All HB Jones food and beverage purchases will be a SEPARATE BILL from the Halfway House reservation bill.  Please see the box below for more information.
SET THE VIBE: Control the tunes and make the environment yours. We feature a large TV in the center of the room that allows for streaming presentations, logos, and slideshows. We welcome decorations
We partner with HB Jones to provide seamless service
Order directly from the menu for smaller parties (less than 25 guests),  see HB Jones main menu HERE
Create the perfect buffet-style meal for larger parties (25 or more guests), View Catering Menu HERE
Choose a beverage program to fit your needs: either a la carte pricing or a wine and spirits package
Designated food and beverage servers will accommodate your guests
Portable bar is available for set-up in Halfway House for larger parties
* HB Jones food and beverage bill will be separate from your Halfway House party rental bill. 
Halfway House requires a 50% deposit at the time of reserving your party date. Cancellation Policy: 100% refund if cancellation is more than 7 days from event. 50% refund 3-6 days from event. No refunds withing 72 hours of event.
Children's Parties: For ages 15 and under parties, there must be adults present at all times monitoring safety, during the party.